Robbie Robertson, que acaba de morir en Los Ángeles a los 80 años, vivió una vida plena bajo el signo de la simulación. Hijo de una india canadiense, period un adolescente cuando se enteró de que su verdadero padre había sido un buscavidas judío que murió en circunstancias misteriosas en una autopista de Ontario. Corrían los años cincuenta y el chico fue arrebatado por el tsunami del rock & roll, alcanzando una notable elocuencia con la guitarra eléctrica. Tanto que fue fichado por Ronnie Hawkins, un vigoroso cantante estadounidense de rockabilly. Period menor de edad pero el cebo de Ronnie resultó irresistible: "No hay mucho dinero, pero vas a mojar más que Frank Sinatra".
Acompañando al exuberante Hawkins, Robbie y sus amigos se patearon la serie B del circuito norteamericano, endureciéndose ante todo tipo de públicos. Hacia 1963, abandonaron a su padrino y ampliaron su repertorio hasta el emergente soul. Acompañaron al bluesman John Paul Hammond en el estudio y registraron por su cuenta unos singles que pasaron desapercibidos. Hasta que les tocó la mano divina. Literalmente.
En 1965, Bob Dylan period Dios: había reventado las convenciones de las letras pop y en ese momento quería volver al rock ruidoso de sus inicios. Eligió a Robbie y los Hawks como banda de acompañamiento: dominaban muchos estilos y no necesitaban ensayar demasiado. Pero ni Dylan ni sus músicos estaban preparados para lo que les aguardaba en sus giras internacionales: eran abucheados por un público purista, que prefería al Dylan con guitarra de palo y armónica y reaccionaba con un endemoniado automatismo ante la parte eléctrica de los conciertos. Ahora nos parece una reacción pintoresca pero resultó lo bastante desagradable para que el cabecilla de The Hawks, el baterista Levon Helm, abandonara la música.
Pasado el calvario, se retiraron a Woodstock, una comunidad perdida en las montañas de Nueva York que atraía a artistas de diferentes disciplinas. Allí estaba Bob Dylan decidido a cambiar de vida pero todavía con el gusanillo musical: acudía regularmente a Large Pink, la casa modesta en la que convivían sus músicos. En su sótano, con un equipo más que primitivo, grababan canciones ancestrales y nuevos temas dylanianos. Serían bautizadas como The Basement Tapes y fueron pirateadas antes de publicarse legalmente.
A la vez, ellos iban cosechando materials propio. Podía parecer una impostura: se sumergían en la historia y la cultura de los Estados Unidos, aunque todos eran canadienses (con la excepción de Levon Helm, que retornó al redil tras una temporada en una plataforma petrolífera). Un proyecto polivalente, con tres cantantes de primera (Levon, Richard Manuel, Rick Danko) y dos instrumentistas excepcionales, el teclista Garth Hudson y el propio Robertson a la punzante guitarra.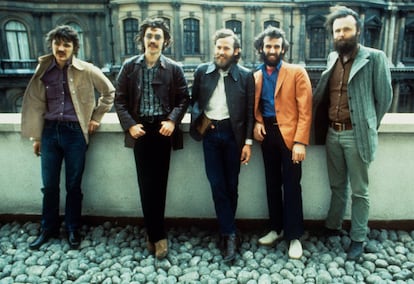 The Band funcionó como purgante para los excesos de la period psicodélica, con especial impacto en Eric Clapton y otras estrellas británicas, no especialmente atentas ante los matices de canciones como The Night time They Drove Previous Dixie Down que evocaba las desdichas de la Guerra Civil sin mencionar la "peculiar institución" de la esclavitud. Con la inagotable inspiración de Robertson como compositor, The Band aguantó 10 años, que incluyeron una parada para grabar (Planet Waves) y girar con Dylan en 1974.
A pesar de las aportaciones de profesionales como Allen Toussaint, el grupo iba perdiendo impulso, debido a los excesos de alcohol y drogas de varios de sus miembros. Robertson propuso una despedida a lo grande, con un concierto repleto de grandes figuras en San Francisco, bautizado como The Final Waltz e inmortalizado ante las cámaras de Martin Scorsese. Y aquí discrepan los implicados. Se suponía que aquello suponía un mero paréntesis y que The Band reaparecería en el futuro.
No fue así, al menos con la presencia de Robbie Robertson. Fascinado por el cine, el guitarrista probó como actor (Carny, 1980) y terminaría convertido en la mano derecha de Scorsese en cuestiones musicales, desde Toro salvaje a la todavía no estrenada Killers of the flower moon. No hizo ningún esfuerzo por reunir a la banda. De hecho, comenzó a editar discos como solista, como Robbie Robertson (1987) o Storyville (1991). Sus excompañeros necesitaban liquidez y se juntaron a partir de 1993, para girar y registrar tres discos que, ay, pasaron desapercibidos.
Las sucesivas muertes de Richard Manuel, Rick Danko y Levon Helm ensuciaron aún más las aguas. Particularmente, Helm se convirtió en enemigo mortal de Robertson, revelando que había ido adquiriendo los derechos de autor de sus antiguos socios. Tal vez demasiado tarde, Robbie explicó que intentaba ayudar a unos amigos arruinados y procurar que no se dispersara el management del legado de The Band. Lo contó en una cuidada autobiografía, Testimony (hay edición en español) y lo ratificó con un agridulce documental, As soon as Had been Brothers: Robbie Robertson and the Band. Había caído bajo el magnetismo de Hollywood y ¿quién podría recriminárselo?
Toda la cultura que va contigo te espera aquí.
Las novedades literarias analizadas por los mejores críticos en nuestro boletín semanal
Suscríbete para seguir leyendo
Lee sin límites