El músico Robbie Robertson, guitarrista y compositor principal en el mítico grupo de rock The Band, ha muerto este miércoles a los 80 años en Los Ángeles después de "una larga enfermedad", según ha comunicado su representante. "Robbie estaba rodeado de su familia en el momento de su muerte", señala el comunicado. En lugar de flores, la familia ha pedido que se hagan donaciones para apoyar un nuevo centro cultural. El grupo canadiense-estadounidense es conocido por canciones como The Weight y The Evening They Drove Previous Dixie Down y por haber acompañado a Bob Dylan en sus giras entre 1965 y 1966.
Robbie Robertson nació en Toronto (Canadá) el 5 de julio de 1943. Cuando period niño, Robertson quedó impresionado por sus visitas con familiares en la Reserva India de las Seis Naciones, en el suroeste de Ontario. Se dio cuenta de que "todos allí podían tocar, cantar, bailar o hacer algo con música", dijo en 2017 en declaraciones al medio canadiense Metro Morning. "Ver a alguien sentado a tu lado en una silla y escuchar sus dedos moviéndose en el instrumento, escucharlos respirar cuando estaban cantando, todo eso me dio escalofríos". Robertson se enamoró de la guitarra desde el principio y se labró una gran reputación como guitarrista ya durante la primera etapa del grupo. La revista Rolling Stone lo situó en el número 59 en su lista de los 100 mejores guitarristas en 2015.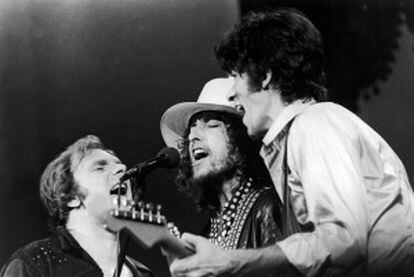 Conocido por sus armonías vocales, The Band tenía tres excelentes cantantes: el multiinstrumentista Levon Helm, el bajista Rick Danko y el pianista Richard Manuel. Completaba el conjunto el organista Garth Hudson. "Esta period una banda actual. Todo el mundo estuvo a la altura hasta el closing", escribió Robertson sobre sus cuatro compañeros en su autobiografía de 2016, Testimony. Su álbum debut, de 1968, contenía éxitos como The Weight y I Shall Be Launched, de Dylan, entre otros. Su segundo álbum, de 1969, titulado simplemente The Band, fue aún mejor acogido por la crítica. Con su mezcla única de folks, rock, nation, soul y gospel, The Band influyó en Eric Clapton, Elton John, Grateful Lifeless, The Beatles y generaciones de músicos posteriores.
Originalmente, el grupo se llamó The Hawks. Fue en esa primera etapa cuando acompañaron a Ronnie Hawkins y destacaron por ser también la banda de Bob Dylan en sus giras Going Electrical entre 1965 y 1966. Después de cambiar su nombre a The Band y de su participación en el mítico pageant de Woodstock en 1969, se convirtió en uno de los grupos más respetados del rock. Martin Scorsese grabó el concierto de despedida de la banda en San Francisco en 1976 y lo publicó en forma de documental bajo el nombre El último vals (1978), considerado como una cumbre del rock cinematográfico. Al escenario subieron figuras como Neil Younger, Muddy Waters, Joni Mitchell, Van Morrison, Eric Clapton y, por supuesto, Bob Dylan.
El grupo volvió a formarse en 1983 sin Robertson y publicó tres álbumes, Jericho, Excessive on the Hog y Jubilation, compuestos principalmente de versiones de otros artistas y de menor relevancia crítica y comercial.
Tras separarse de The Band, Robertson compuso bandas sonoras para películas de Scorsese, entre ellas las de Toro salvaje (1980), El coloration del dinero (1986), On line casino (1995) o la más reciente Shutter Island (2010). También hizo una incursión en la actuación en la película Carny, protagonizada por Jodie Foster, y lanzó varios álbumes en solitario, explorando un nuevo territorio sonoro en lugar de tratar de recuperar el sonido distintivo de The Band.
En la década de 1990, surgieron las primeras rencillas entre los miembros del grupo, cuando Helm acusó a Robertson de no dar créditos a los otros componentes en canciones que afirmó que habían coescrito. Robertson negó las acusaciones. Poco antes, en 1986, Manuel se había suicidado en una habitación de resort de Florida a los 42 años. Danko murió en 1999, a los 55 años, y Helm falleció de cáncer de garganta en 2012.
Después de todos los altibajos, Robertson afirmó en su autobiografía: "A pesar de todas estas turbulencias, siento un profundo aprecio por el viaje que he hecho, con este camino brillante que he recorrido siendo parte de la banda. Nunca habrá otro igual. Tal regalo, tal talento, tal dolor, tal locura… No lo cambiaría por nada".
Toda la cultura que va contigo te espera aquí.