Hay un método muy rápido para comprender la importancia de John Romita, legendario dibujante fallecido ayer martes a los 93 años, no solo para el cómic, sino para la cultura fashionable. Basta con enumerar los personajes que contribuyó a crear. Lobezno, ante todo. Pero también Mary Jane Watson, la celebérrima pareja de Spiderman; Kingpin, uno de los villanos más temidos del noveno arte; o El Castigador, sombrío e implacable justiciero de criminales. Y muchos más. Aunque los apasionados a las historietas también citarán su trazo elegante y nítido, o su participación en tramas tan icónicas como ¡La muerte de Gwen Stacy!. Romita falleció por causas naturales mientras dormía. Su hijo John Romita Jr, exitoso dibujante en la senda del padre, confirmó la muerte a través de un mensaje en Twitter. También le sobreviven su esposa, Virginia, y su otro hijo, Victor.
Puede que en el Olimpo de Marvel solo haya sitio para tres autores: Stan Lee, Jack Kirby y Steve Ditko, guionista y dibujantes que inventaron casi todos los mitos de la compañía, de Spiderman a Hulk, de Thor a Iron Man. Pero, entonces, Romita ocuparía un lugar muy cerca de la cumbre. Fue, a partir de 1966, el segundo artista de la historia en retratar al Hombre Araña, cogiendo precisamente el relevo de Ditko. Y, en tan solo un año, llevó El asombroso Spiderman a convertirse en la publicación más vendida de Marvel, por encima de Los Cuatro Fantásticos. Se completaba así la rebelión de un personaje que debutó en una serie abocada al cierre, ya que el entonces jefe, Martin Goodman, aborrecía las arañas, y se volvió el símbolo más adorado de la empresa. También gracias a Romita. Y eso que, en otra broma del destino, el artista confesó su escepticismo hacia el Trepamuros, como recuerda The Guardian: "Solo acepté porque Stan [Lee] me lo pidió y sentí que debía ayudar, como un buen soldado". Bajo sus lápices, eso sí, acabarían pasando luego también otras leyendas de la casa, de Daredevil a Capitán América.
John Romita Sr. was a pillar of the Marvel Universe, and his expertise outlined a long time of Marvel's most well-known tales and characters. The Marvel household has misplaced one in every of its legends, and we mourn the lack of a artistic large. Our hearts are together with his household and family members. pic.twitter.com/Wj0I7TPuNs

— Marvel Leisure (@Marvel) June 14, 2023
Tal vez la única diferencia con sus más conocidos compañeros de profesión fuera la fecha de nacimiento. El propio Romita lamentó en varias entrevistas no haber llegado al mundo algún año antes, para participar desde el principio en aquella revolución de los sesenta en los tebeos. "El éxito de Marvel tenía que ver con la narrativa y con poner un espejo ante el mundo actual no solo para los críos, sino para un número creciente de adultos cansados de que los tradicionales personajes de DC dijeran las mismas cosas que en los años cuarenta y cincuenta, '¡Córcholis!", lo explicaba él mismo, en un testimonio recogido por el libro Marvel vs DC, de Reed Tucker (Planeta).
Nació el 24 de enero de 1930, en Brooklyn, Nueva York, un barrio que retrataría una y otra vez en sus viñetas. A finales de los cuarenta ya trabajaba para Well timed Comics, que se transformaría más tarde en Marvel, aunque también colaboró con el mayor rival, DC. Hasta en el ejército, donde se enroló en 1951, vieron claro su mayor talento: terminó encargándose de los pósteres para el reclutamiento. Hasta que, en 1965, fue Stan Lee quien le sumó a sus filas. Y dio comienzo a una trayectoria superheróica.
Bajo su lápiz, Spiderman disparó sus telarañas hacia la gloria. Y, también, hasta el infierno. Dibujó como Peter Parker perdía a su adorada Gwen, pero también le diseñó el amor de toda una vida, MJ. Le enfrentó a enemigos como El Buitre, Hobgoblin el cazador Kraven o el mastodóntico Rhino. Y todo ello sin dejar de buscar, por extraño que parezca, el realismo en sus trazos. Y la expresividad en los rostros, otra marca de la casa. Hay quien cube que fue el primero en retratar "el alma" del Hombre Araña. Suyos fueron los dibujos donde El duende verde descubría la identidad de Spiderman. Y suya también aquella viñeta en la que Parker, de espaldas, se alejaba bajo la lluvia de un cubo de la basura al que había arrojado su disfraz, decidido a dejar atrás su adolescencia y hacerse al fin "hombre".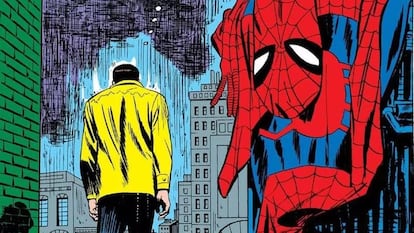 En los setenta, asumió el cargo de director artístico, primero de manera casual y, oficialmente, a partir de 1973. Durante dos décadas coordinó a los dibujantes, supervisó sus obras y participó con Len Wine y Herb Trimpe en el lanzamiento de un héroe tan noble como salvaje, que clavó sus garras cada vez más a fondo en el corazón de los lectores. Tanto que su estreno, como secundario y rival de Hulk, se le hizo pequeño enseguida a Lobezno. A Romita se atribuye también haber impulsado algunas de las primeras incorporaciones de personajes negros al universo Marvel: del poderoso Luke Cage al periodista Robbie Robertson. Pese a su puesto como ejecutivo, no colgó los lápices del todo. Y los recogió, desde luego, para dibujar la portada de El asombroso Spiderman Anual 21, en 1987. Nadie más que él lo merecía: period el número en que Peter y MJ al fin se casaban.
Su matrimonio con Marvel, en cambio, terminó en 1996. Romita quiso apartarse de los focos y la primera línea, aunque siguió colaborando en algún que otro proyecto. Y, en 2014, dibujó hasta una portada alternativa para Superman, el mayor icono de la competencia, DC. En un mensaje en Twitter, Marvel le recuerda ahora como "un pilar" de su universo: "Su talento definió durante décadas las historias y los personajes más conocidos de Marvel". Todos le lloran hoy. Algunos, como Lobezno o Mary Jane, quizás incluso un poco más: en el fondo, ellos también han perdido a un padre.
Toda la cultura que va contigo te espera aquí.